8 hangout ideas for you and your four friends

7

min read
By: Sayori Bose
The month-long heightened restrictions in May threw a curveball to many of our exciting summer hangout plans. Thankfully, Singapore has now entered Phase 3 (Heightened Alert)! This allows us to go out in fives and dine-in in twos.
So if you've been raking through your brains thinking, "What can we do" and "Where can we go," don't worry, because here we have your 'ultimate' guide to planning exciting, fun, and meaningful hangouts this season.
1. Enjoy a (much awaited) meal together… with your best friends!
Food really has a unique and unexplainable way of connecting people.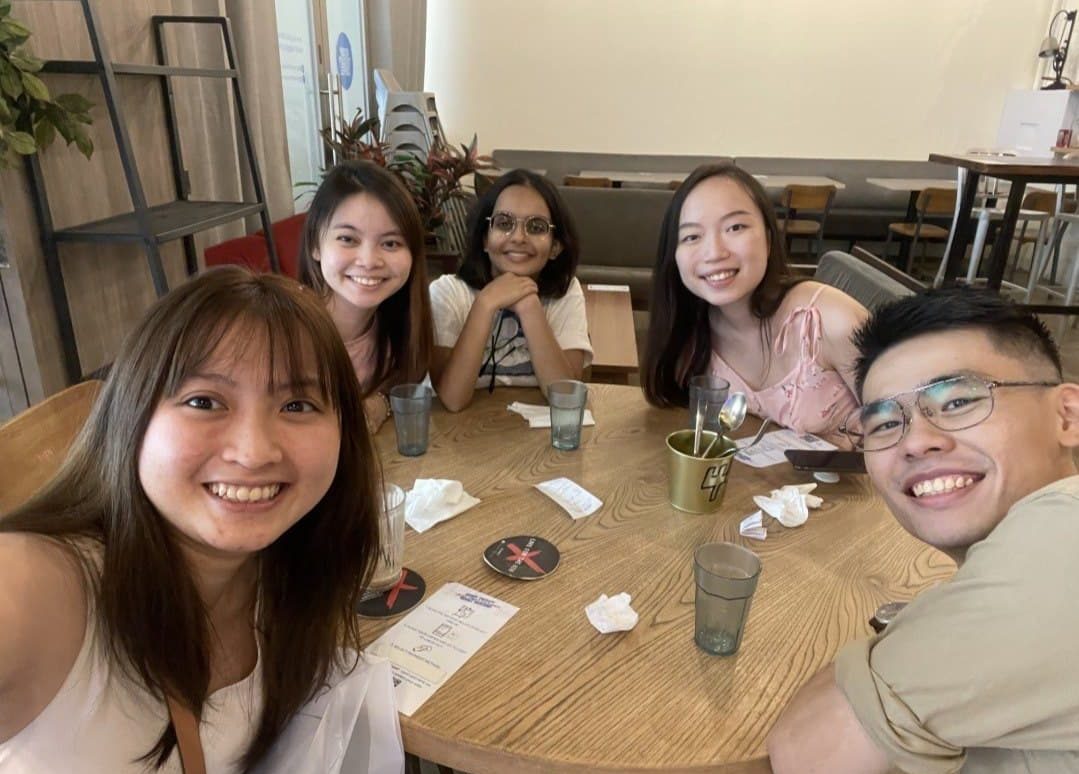 While we can only dine in twos right now, it's still a chance to hang out with our best friends – one by one! Once dine-in restrictions are raised from mid-July, go out for a meal with four other CG mates. Nothing beats enjoying a good meal with great company!
2. Head out for a session of Basketball, Badminton, Football, Squash, etc.
As I was brainstorming for this article, I decided to ask my CG what they wanted to do together now that we can meet in groups of five. Instantly, our chat was buzzing with ideas. One of them replied, "Honestly, I miss playing sports :')."
Me too – and I'm not even much of a sporty person. But the thrill and excitement that comes with a friendly match of football or basketball is unmatched! Not to mention, we also get to create memories and stay active!
3. Explore Singapore's natural beauty through hiking and cycling trails
Singapore is a City in a Garden. There are MANY beautiful nature trails perfect for hiking or cycling. Each trail is really an adventure of its own.
TimeOut has even curated some awesome hiking and cycling trails around Singapore which I highly recommend. Get the CG together, enjoy some fresh air, work up a sweat, create new memories and get out on the trail!
4. Discover the hidden beauties of our 'hoods by going on an Urban Trail
If nature hikes aren't your thing, then switch things up a little by unearthing the beauties of our 'hoods like Kampong Glam, Joo Chiat, Chinatown, Little India and more!
Cool cafés, hip boutiques, unique histories, stunning wall murals! The urban trails will be sure to open your eyes to the beauty of Singapore's urban landscapes.
5. Organise a picnic for your CG
If you're looking for an all-in-one "rojak" hangout activity, then picnics are an awesome way to spend time with your CG! Grab four friends and head down to a park/beach for an hour or two (or more) of some fun and meaningful quality time.
If you're not sure of the best parks/beaches for a picnic, well not to worry, TimeOut also has a list of 13 amazing Insta-worthy picnic spots in Singapore.
6. Go museum-hopping and explore over 50 museums across the island
I had no idea that there are over 50 museums in Singapore!
Beyond our National Museum and National Gallery, there are some pretty unique and cool museums in Singapore covering a range of interests from history, to art, to music. There is sure to be something that will pique your interest.
So if you and your CG are looking to fill your time exploring the museum scene in Singapore, be sure to check out this list of the top museums in our little red dot!
7. Switch out Monopoly Deal with the quarantine-inspired version – COVIDOPOLY
This one is a favourite of mine. I'm really bad at Monopoly Deal and equally bad at Covidopoly but that doesn't mean I can't still enjoy it! The rules of Monopoly Deal apply just with some tweaks to suit the COVID-theme of the game. Covidopoly's an awesome way to bring some fun and laughter into your CG hangouts online!
8. Organise an online Cooking Showdown – discover your CG's own MasterShef
Remember MasterShef Singapore (Congrats Oliver!)? Cook a meal together as a CG online and discover your CG's very own MasterShef! Disclaimer: Chaos might unfold but it will be an experience worth remembering.
So there you have it – your 'ultimate' guide to planning fun and meaningful hangouts in Phase 3HA!
Keep your masks on, stay healthy, and have fun with your 2-4 friends!