A Field Guide to Board Game Cafes in Singapore

4

min read
Because no venue holds a monopoly on board games
By Keane C.
---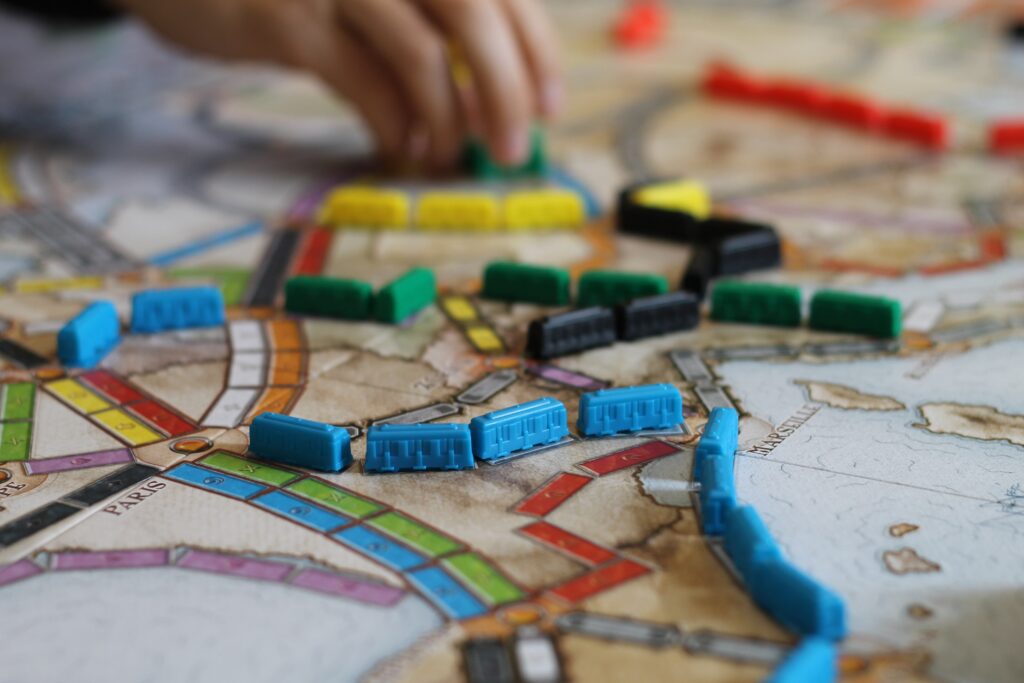 When it comes to playing board games, there's no place like home! But if you've got a big (and noisy!) group of friends keen to play late into the night, board game cafes can offer more space, a bigger selection of games, and unlimited snacks at your fingertips.
At these places, you can play to your heart's delight without disturbing your sleeping family members (and without emptying your pantry!):
---
Feeling hungry?
If you're going to embark on another round of Ticket to Ride, you're going to need some sustenance. Well, we've got you covered – these places offer a full-fledged selection of games and food.
At this establishment located just a stone's throw away from Farrer Park MRT, you'll get to enjoy a wide selection of food, from burgers, to Korean fried chicken, to ice cream. Plus, it operates 24/7 and there are 3 different private rooms you can book for groups of 8-12 pax.
Price range per pax: $7-$10 per hour (not inclusive of food & drinks)
---
The King and the Pawn is located right in the heart of the city centre on Purvis St., which is a 5-minute walk from either Esplanade or Bugis MRT. Here, you can order a variety of food for brunch and dinner. Additionally, you'll only need to make a one-time payment (starting at $9 a person) to play for as long as you want.
Side note: They offer a discounted price off the total bill for students and NS Men from Tuesday to Thursday. Don't say bojio.
Price range per pax: $9-$14 for all-day entry (not inclusive of food & drinks)
---
Wanna play from dusk till dawn?
If you're planning to play late into the night, here are a few board game cafes that will let you stay till the morning.
This is one of the OG board game cafes in Singapore, so it needs no introduction. Not only do they have more than 800 games available, but they're open till 6am on Fridays and Saturdays, so it's a great place to hang out if you'd like to stay there all the way until the first train. Bonus: They've got a team of Game Masters, Facilitators, and Coordinators who can teach you how to play the games!
p.s. Settlers Cafe – which we mentioned earlier – is open 24 hours, so it's a great choice if you're hungry and planning to play into the night.
---
On a tight budget?
Fret not – these places are relatively pocket-friendly compared to other board game cafes.
With over 200 games and located within Lian Huat Building on Tras Street is a small, no-frills board game shop called Experience Point, where you can either choose to pay as low as $4 per hour, or pay a one-time fee of $12/$15 for all-day gaming. 
Note: You need to book an appointment before your visit!
Team Board Games is a board games shop and cafe a minute's walk from Macpherson MRT. Like Experience Point, it offers an hourly based rate (starting at $3) and a one-time flat fee of $10 per pax. But keep in mind that you will need to book a table from their website too!
---
BONUS: Community Centres (CCs)
The CCs might not be the first place that comes to mind when you're thinking of playing board games. However, at CCs around Singapore, such as the ones located in Sengkang, Eunosville, and Tanjong Pagar, you can find board game interest groups hosting games regularly. That's right – they have a variety of board games on-hand to play at no cost! Make sure to check your nearest CC for board game sessions, bring your own games along, and be ready to make some friends!
---
Well, to sum it up, where you play board games is really a matter of preference and what aspects of the experience that you prioritise. Personally, I also love playing board games at my church as it's where my friends and I meet up the most. So grab a friend, head out, and have fun playing! 😆
You May Also Like