Academic Excellence: 3 Tried And Tested Study Tips To Ace Your Exams While Making A Difference

3

min read
We sat down with our students to find out what helped them ace their exams while actively volunteering in church.
By: Samantha W.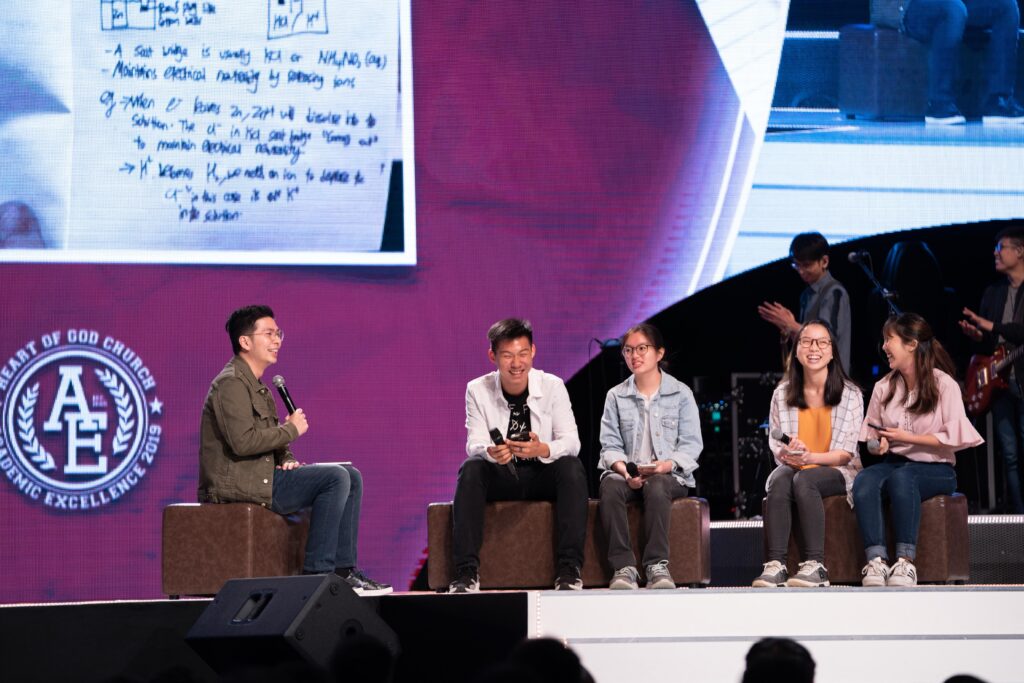 Russell is headed to Oxford University to study Physics; Esther & Tze Yee are pursuing medicine in Nanyang Technological University; while Jing Wen is tackling a double Major in Psychology and Biological Sciences.
As they reflect on their Academic Excellence journey thus far in Heart of God Church, here's 3 things that kept them going!
A Change In Mindset
"Honestly, studying used to be very painful for me," says Esther. "I often gave up halfway and played games on my phone instead! I thought maybe I was just not born with the intellectual ability. But during an Academic Excellence service, Pastor How shared that no one is born stupid! Even if I wasn't naturally gifted, I could still work hard and try my best. My mindset towards studying completely shifted!" From failing most of her exams in Secondary 1 and 2, Esther saw great improvement and started scoring As and Bs.
While she did well in school, Tze Yee admitted she carried the wrong mindset towards studying. "I thought good grades were the only way to a successful life and a secure future. If I did not score straight As, I would break down and cry." However, she soon understood that there was a greater purpose to studying. "One service, I heard from God to study Medicine and go on medical mission trips one day. Through that I found a new motivation to study, knowing that God has a purpose for me!" She is no longer pushed by fear but motivated by faith for the future!
A Supportive Tribe of Family & Friends
"What really helped was having supportive parents in church!" says Russell who also volunteers in our church's Testimony Ministry. "When my parents knew I was stressed about my studies, they bought me an entire set of Academic Excellence sermons just to encourage me. They would encourage me to keep serving God and doing my best in school! Such moments really kept me going."
Meanwhile, Esther and Jing Wen spurred each other on. "Being in the same CG and taking exams together was great!" shared Jing Wen. After school, you used to find Esther and Jing Wen studying together in the canteen, clocking in their hours of studying weekly. "During our study breaks, we prayed and listened to audio sermons together at the treehouse in our school."
A Decision to Put God First
Tze Yee: "While studying, I found joy in serving in church! I was serving in the Building Maintenance (BM) Ministry where we make sure that the church is clean so everyone can enjoy service. Esther serves in BM too, so when we were on duty, we came earlier and studied together! Closer to my A levels, my leaders wanted me to focus on studying for my exams. But, I asked my leaders if I could still serve, up till the month before my exams! I assured them that I would not compromise on my studies."
"Even as we gave our best to God, He never short-changed us!" chimes in Esther. "While getting straight As was great, what is even greater is knowing that we never compromised on giving God our best.
—
Writer's note: listening to all of them share, I can't help but realise that it's here in Heart of God church that youths are not just empowered but also equipped to do well academically!
If you are a HOGC Youth taking your major exams, this one goes out to all of you!! We're cheering you on as you march straight on into Academic Excellence!
To find out more about the Heart of God Church Academic Excellence programme and hear more stories of youths impacted by this programme, head over to hogcae.com.
You May Also Like