5 Key Facts: Academic Excellence Open House With Assoc. Prof. Fatimah Lateef

3

min read
#5 – AE started the same year as Facebook
Pastor Tan Seow How (Pastor How) started the Academic Excellence (AE) Programme in 2004. That was the same year Facebook started! You could say we've spent 13 years helping students face their books instead…
Our pastors started AE out of the belief that students can do good and do well in their schools, in their families and in church. So every year, we invite parents and educators to find out more about AE in an open house so that we can partner together to help our youths excel.
#4 – Our MP specially took time out for the event…
This year's AE was particularly special as we had Associate Professor Fatimah Lateef, Member of Parliament (MP) of Marine Parade GRC and the Adviser to Geylang Serai IRCC, grace our AE Open House.
Not only did Assoc. Prof. Lateef give a speech, she also presented scholarships from our HOGC Scholarship & Opportunity Fund and stayed throughout the entire service. Afterward, she even hung around for a dialogue session with our youths. We know this is quite uncommon for a busy MP, so we're really thankful for her time!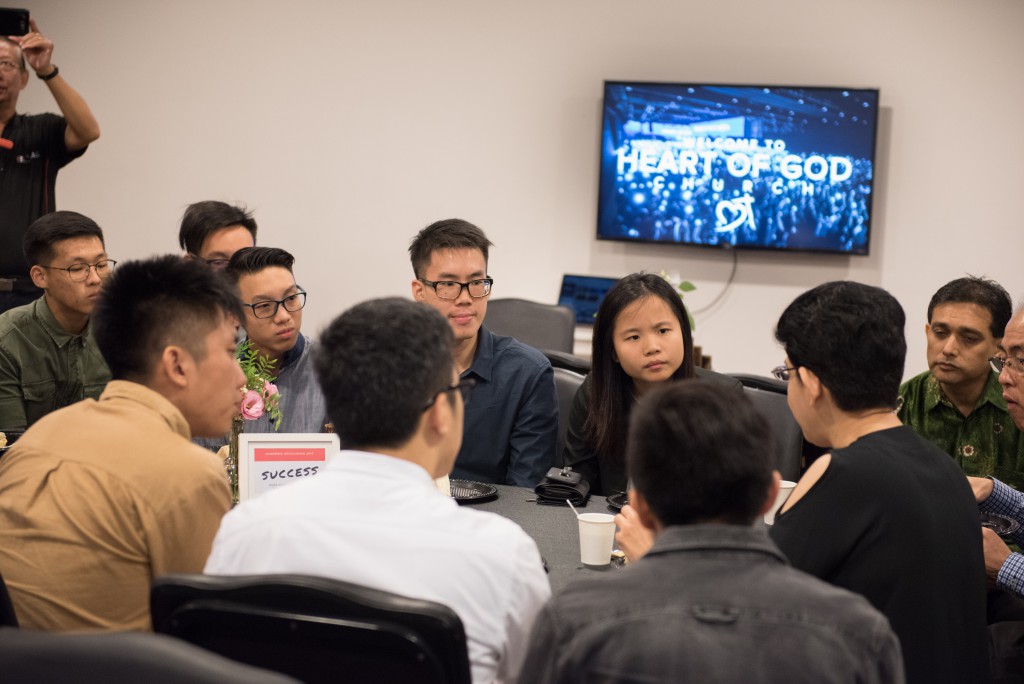 #3 – … and she loved our the principles from our AE Programme
In her speech, Assoc. Prof. Lateef affirmed that the principles of our AE Programme are also what she strongly believes in. She commended the youths of HOGC for leading balanced lives—in addition to living out their faith, they study diligently, spend time with their families, and give back to the community.
As Pastor How shared previously in our AE weekends, studying is for the training of the mind, and to be enjoyed, not endured. Assoc. Prof Lateef echoed this principle when she shared her journey of becoming an academician—studying not only helped her achieve better grades, but also made her a better leader, taking her from the local to the global stage in community work.
#2 – We've seen the fruit of our labour
Assoc. Prof. Lateef also noticed how AE has not only helped youths succeed in church, but it has helped many of them become successful members in society—a number of our former students now work as doctors, lawyers, and professionals in MNCs.
As Assoc. Prof. Lateef said, "You have alumni who have actually gone through the programme—it's been around for 13 years—and these are the people who are sharing and they're showing the results and the desired outcomes of the AE Programme."
#1 – Our scholarship recipients now give back
Assoc. Prof. Lateef also presented scholarships to several students from our HOGC Scholarship & Opportunity Fund (SOF). The SOF reflects the heart of our Pastors to "give dignity to charity"—instead of publicising the names of our recipients or using their stories to solicit funds, the SOF empowers them by leveling the playing field and giving them the opportunity to excel.
One of our scholarship recipients, Alastair, shared how coming to HOGC transformed his life. Through the principles he learned in AE and our scholarship, he has become the first in his family to enter a university. Today, he is attending SMU, is a volunteer leader in church and works together with the Geylang Serai IRCC to help the community.
Later, Assoc. Prof. Lateef shared that Alastair's story inspired her because as someone who also came from a less well-to-do family, she could only afford medical school because of a scholarship—one that she had to study hard for, no less. She then remarked how the scholarships were "admirable, because it is giving back to the society. People who have been given the fund have actually come back to serve as well."
Hear more of what Assoc. Prof Lateef has to say about our AE Programme:
Assoc. Prof. Fatimah Lateef, Member of Parliament, on the Academic Excellence Programme
You May Also Like