Heart for Our Heroes: Encouraging the Singapore Civil Defence Force Officers in our Community

5

min read
Our Heart For Our Heroes initiative continues! This time, it was with our heroes from the Singapore Civil Defence Force (SCDF), the first responders and frontline-fighters combating COVID-19. 
Just recently, our young people packed and distributed 200 care packs for the SCDF officers working at the Tampines Fire Station. Each pack contained an assortment of fruits, vitamin C, healthy snacks and a heartfelt card. 
Joined by Guest of Honour, Mayor of North East Community Development Council (NE CDC) Mr Desmond Choo, Heart of God Church volunteers along with our friends from Tampines Chinese Temple and Masjid Darul Ghufran were able to spread some encouragement to the dedicated officers. 
Our SCDF officers play a crucial role in the national response of COVID-19. Emergency call-takers help screen for suspected COVID-19 while Medical Teams and ambulance crew convey suspected cases to hospitals. They are also the people behind temperature screening at checkpoints and COVID-19 swab tests at quarantine facilities. 
We caught up with Mayor Desmond Choo & Pastor Charleston Lim and this is what they had to say about the Heart for Our Heroes initiative:
Mayor Desmond Choo shared: "I'm just very heartened to join Heart of God Church, its members and of course our religious organisations to come and appreciate and support our frontline workers, especially our SCDF officers. They put their health on the line every single day. When we get our younger people to come together, to show that Singapore is united. I think this is the spirit we must have. Regardless of what kind of profession or vocation we are in, as long as we come together, Singapore will be able to come out of this COVID-19 episode stronger, better and more united. So just want to thank Heart of God church once again, continue to do your good work and don't stop appreciating and supporting our frontline workers."
Pastor Charleston elaborated on the heart behind this initiative, saying, " As a church, we want to support and to celebrate our local heroes. And one such group is the SCDF, which is the Singapore Civil Defence Force. These guys have been working tirelessly, round-the-clock, serving our nation. So, in a small way, we just want to encourage them and also what's really significant is that we're working together with other religious groups and also community organisations. So together, we stand united to support our frontline heroes as they give their best to serve our nation."
Mr Desmond Choo, the NE CDC and Masjid Darul Ghufran also took to social media to share about this initiative. Check out what they had to say!
During the initiative, some of our youths very literally got to stand in the shoes of the SCDF officers. Donning the heavy uniform and headgear, they caught a newfound appreciation for the men and women in uniform who carry that responsibility to serve our nation every day.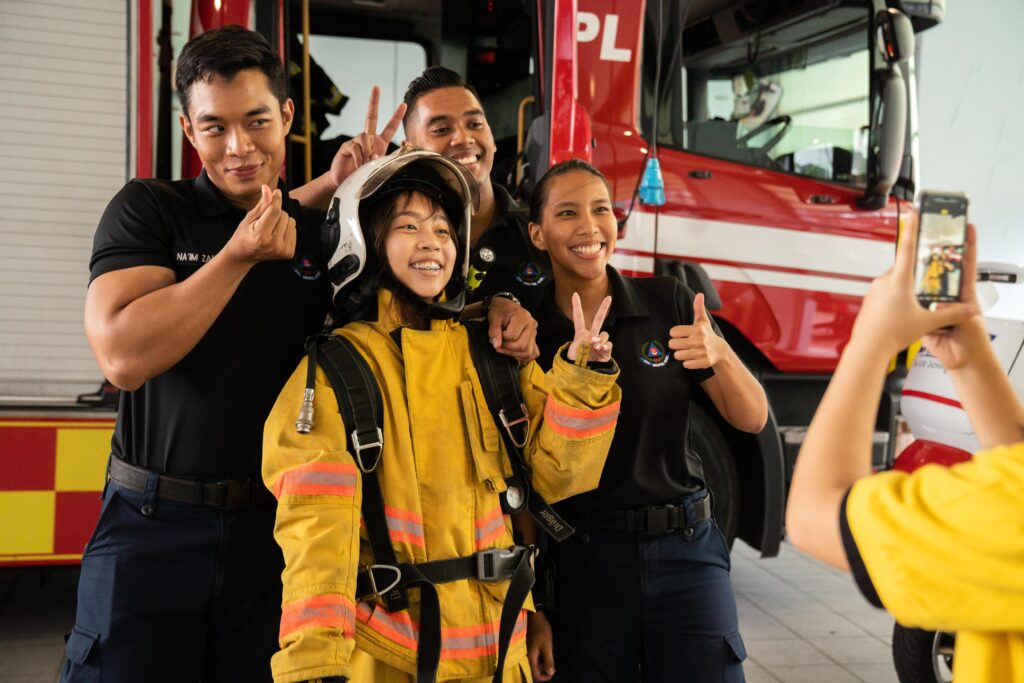 In fact, during the visit, an urgent announcement was made and within seconds, an SCDF team was on an ambulance rushing towards those in need of medical assistance. Without hesitation, they put their lives on the line so that our lives can go on. To our heroes, your courage and commitment is an inspiration to us all!
To everyone reading this, we can all do our part to bring light and hope amidst this situation. If you know a frontline staff, encourage them today!