A Night of Worship With Martin Smith

3

min read
Martin Smith, frontman of Delirious?, led worship in Heart of God Church with both new and classic songs
By Cynthia C.
Songs by Christian rock and worship band, Delirious?, have been a staple in Heart of God Church (HOGC) for the past two decades. So you can imagine how thrilled we were in April when the band's frontman, Martin Smith, stopped by with his family to lead us in worship during a weekend worship night!
That evening, the auditorium exploded with phenomenal energy as we jumped and sang our lungs out to anthems like Rain Down, History Maker, Did You Feel the Mountains Tremble?, Our God Reigns, Majesty and Waiting Here for You.
It felt impossible to stay seated. Prilla, a member of our church, loved how the youths' excitement and hunger to praise God with some of their favourite songs roused everyone to their feet. "My connect group is made up of adults, but that didn't stop us from standing on our chairs, dancing, and worshipping God with all our hearts alongside everyone!"
We spent more than two hours on our feet in praise and worship!
Rain down
All around the world we're singing
Rain down
Can you hear the Earth is singing
Rain down
My heart is dry but still I'm singing
Rain down
Rain it down on me

"Rain Down" by Delirious?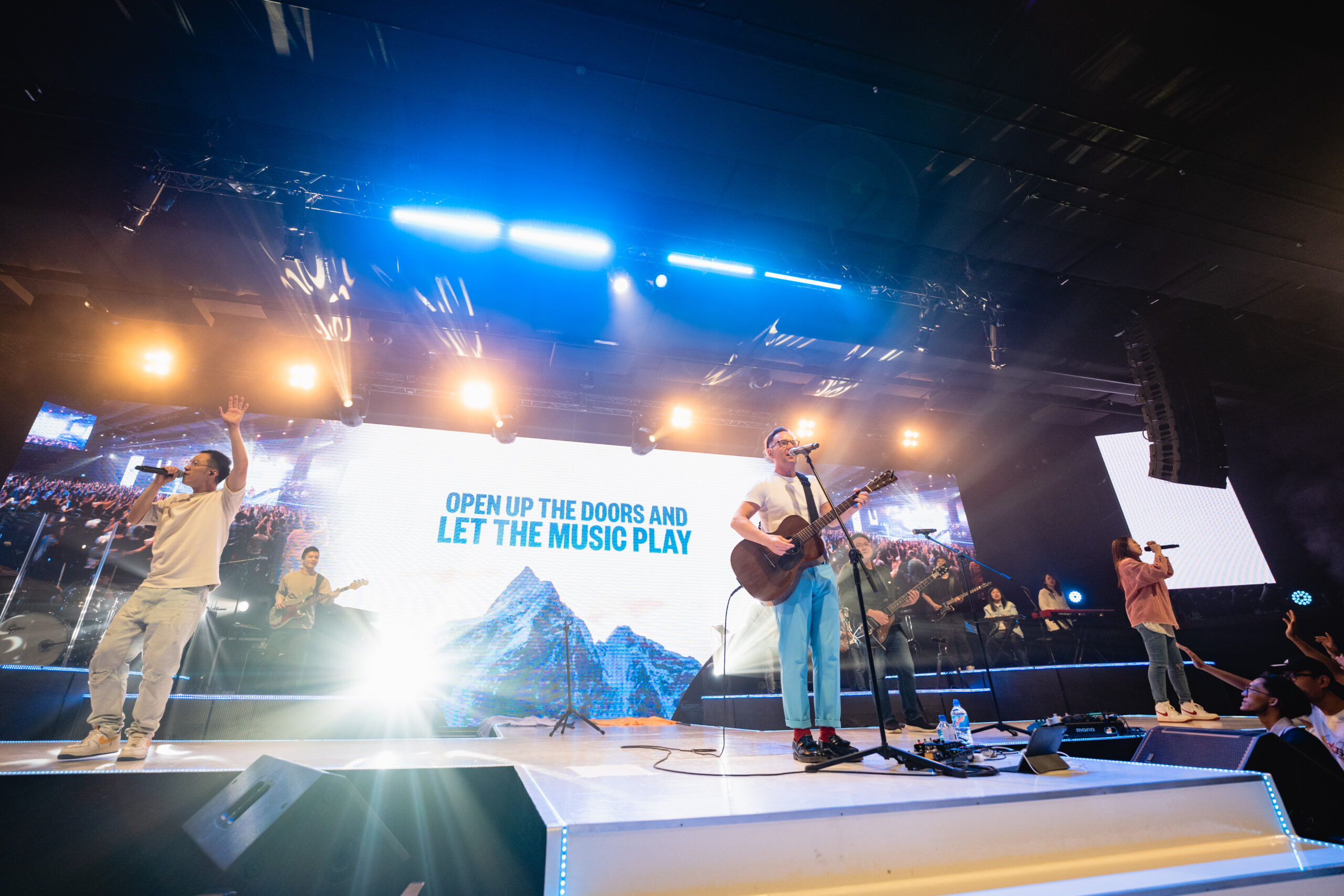 Check out this Instagram post to glimpse the explosion of praise:
On top of his classic songs, Martin Smith also led us with some of his latest releases, such as Holy and Our Eyes Are On You, whose lyrics drew us deeper into worship.
Who can stand against You?
Your enemies will fall
The glory of Your presence
Remains above it all
And You promise You will keep us
Safely by Your side
We don't know what to do
But our eyes are on you

"Our Eyes Are On You" by Martin Smith
Su Ann, a young adult, commented on the timelessness of the worship: "I'm in a different stage of life now, but that night reminded me that everything has changed, yet nothing has changed – I'm still serving with some of my best friends, our church and pastors are just as passionate about God and people, and we still have the presence of God in this place."
Naomi, a member of our worship team who served as a backup vocalist that day, was just as impacted.
"Singing alongside the person who wrote and sang them was surreal!" she said. "I never imagined I would ever have such an experience. Even during rehearsals, you could feel God's anointing and presence."
After the worship service, Martin Smith and his wife, Anna Smith, shared that the worship atmosphere moved them to tears.
Here's what he had to say about his weekend in HOGC:
We are so grateful to have had Martin Smith and his family at HOGC!
To stream Martin Smith's latest albums, tune in to Spotify, YouTube or visit his website.
You May Also Like